About Andrée Jaipur
From an artist who designed clothes, I learned to become an artist who designs quality women's fashion.
And in Jaipur (the Pink City), where hand block printing has thrived for 300 years, I also learned to become the artist who creates the cloth.
I first came to Jaipur at 22 to work with my mother, Sarah, founder and driving force behind Sarah Clothes, the iconic Canadian fashion brand. 
Art and fashion, featuring my unique block print designs, come together in these fashion collections to produce top quality handmade clothes.
Handmade with Quality and Care
All Andrée Jaipur fashion collections are handmade in India from custom woven, superfine 100% cotton, hand block printed and hand stitched in small batches by individual tailors.
Crafted by tradition. Inspired by nature.
Styled for you.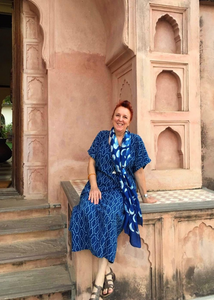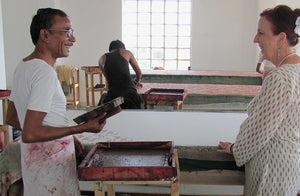 HAND BLOCK PRINT is who we are
Provenance. Craft. Tradition.
Working with indigo, indelible inks, botanical-sourced dyes and hand-carved wood blocks, Colour Masters and Master Printers deploy techniques and traditions that have been refined over the centuries and passed down through the generations to hand print every piece of Andree Jaipur fabric. 
Block Print
ABOUT ANDRÉE JAIPUR:
Canadian Fashion hand made with quality and care.
Master artisan printers of Jaipur India use authentic hand-carved woodblocks to print every piece of Andree Jaipur fabric.
Custom-woven superfine 100% cotton, base cloth.
Expert fitting, sizing and styling to suit the Canadian woman. Made to last you for years.
Hand stitched in small batches by individual tailors (not an assembly line).
Manufactured in India by a family business of 35 years.
Washable, packable, durable and breathable clothes.
Fully recyclable materials (this includes the buttons of coconut and seashell).
Exclusive textile prints all designed by Andrée herself, who has over 30 years experience in the field.
My block designs are inspired by natural elements, water, rock, wood and rain.
Many of my styles are printed using indigo and botanical-source dyes, specialties of the region I work in.
Even my hang tags are hand printed on handmade local rag paper.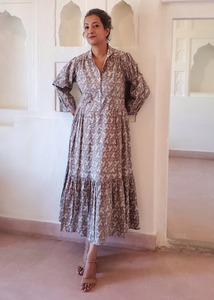 Alice Long Dress in Kashish Gray Christina print
Regular price
$159.00 CAD
Unit price
per
Full details →
---
Share this Product